How It Works

Fill Out A Style Survey
From style to size, we take a personalized approach to finding fashionable pieces that fit.
Receive a Preview of Your Shipment
Before your first shipment, we'll send images of the pieces we've picked out for you. Don't like what you see? You can swap out any pieces for others you might like better. 

Request A Box
Receive 5-pieces that will fit and flatter you. From monthly to once a quarter, you can choose a cadence that suits your lifestyle.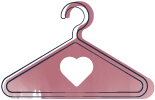 Keep What You Want
Keep what you want and send back the rest. Shipping is free and easy both ways.
From Office Hours to After Hours